Vavril Vineyard – July 2015
Here is the beginning of a serie that we decided to create: a monthly talk of our winemaker about the vineyard of the Domaine.
Hot summer is here at the Domaine and in Vavril's vineyard!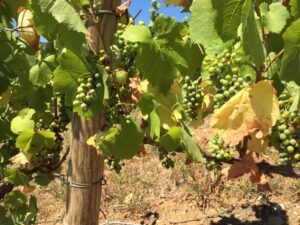 As you know the Rhône Region is currently in a heat wave, which drags on and the Domaine does not escape the phenomenon. If our brides and grooms enjoy the pool every weekend, the vines begins to suffer a bit! We have not had hail for now (fingers crossed!). But the heat begins to have consequences. Some grapes grains begin to dry, the vines lose leaves, but for now no need to worry. The vine is a Mediterranean plant, accustomed to the heat! However it would be nice to have rain before the end of july and especially around 15 August to ensure quality and quantity for our 2015 vintage. Indeed, if the heat wave continues we may lose almost 40% of production as in 2003…
Early harvest for Vavril in 2015
Jean-Luc Ducruix, our winemaker announces us early harvest for 2015.We should begin late August and finish before 15 September. A harvest that promises low quantity. Jean-Luc particularly monitors grape sugar levels which increase with the heat and produce more alcoholic wines. We cannot wait to discover 2015 Vavril wines!
Stay tuned and come back in August to finally know Vavril harvest date!